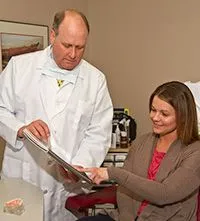 Shoreline OMS offers a full array of oral surgery services to help you maintain a healthy mouth – we have described many of the services below.
Grafts
Extractions
Flap Surgery
Jaw/TMJ
Maxillofacial Surgery
Treating Dental Emergencies
Corrective Jaw Surgery
Sedation + General Anesthetics
TMJ Disorders
Oral Diagnosis + Biopsies
Bone Grafting and Implants
Wisdom teeth extraction
Dental Implants
Misaligned Jaws
Facial Pain
Facial Reconstructive Surgery
Oral Surgery
What is Oral & Maxillofacial Surgery
Oral and maxillofacial surgeons are dentists specializing in surgery of the mouth, face and jaws, and have extensive education and training in surgical procedures involving both the soft tissue (skin and muscle) and hard tissue (bone and cartilage) of the head and neck. Read more...
Implants
Implants are synthetic structures that are placed in the area of the tooth normally occupied by the root. Implants are anchored to the jawbone or metal framework on the bone and act as a foundation for an artificial tooth or permanent bridge. Read more...
Oral Surgery
Most patients experience very little discomfort or pain during maxillofacial surgery. This is because anesthetics are used to dull or block nerve receptors. Read more...
Jaw Surgery
Jaw surgery, which is also called orthognathic surgery, is intended to correct unequal jaw growth. During corrective jaw surgery, the individual's upper and/or lower jaw is moved into the position that is best suited for the person's facial structure and appearance. Read more...
Facial Reconstruction
Many people think of facial reconstruction only being performed on individuals involved in traumatic accidents or fires. Facial reconstruction sometimes involves the placement of soft tissue or bone grafts in the facial area. Read more...